Demonstration
October 2, 2017
Christine Weigand - Painting with Cut Paper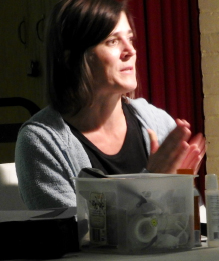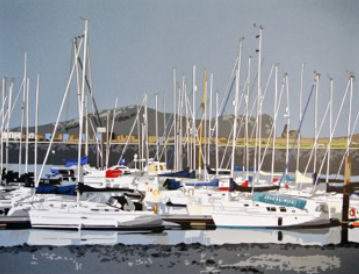 Our October meeting featured the artistic talents of Christine Weigand, demonstrating Painting with Cut Paper. Her unique artwork was also featured on PBS IdeaStream's Applause. As an introduction to her artwork, Christine, with the help of her husband, set up the Applause video for us to view....see link below. It's well worth viewing, as it shows her various cut paper 'paintings', from landscapes to architecture to animals, and more. You will be amazed at what she creates with cut paper. We all were!

Christine first demonstrated for us about 10 years ago. Her art has certainly expanded since then. It all started when she created a scrapbook for her in-laws for Christmas, cutting out clipart and layering pieces, creating a beautiful family keepsake. That's when she thought..."why not expand this into something unique using my own photographs."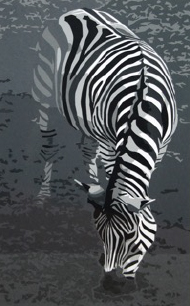 Christine uses Photoshop to compose, crop and simplify the lines in her image, then prints it out. Working three dimensionally, she figures out how to build the picture, cutting out each layer from different shades of card stock, working dark to light. She tries to go no more than 6 layers for small pieces. She purchases card stock from Joanne's or Pat Catan's..."grays and greens work the best." "It's easier to keep the palate neutral and then add a touch of color." She sometimes uses an adhesive backed paper, which she makes herself. Using a hot glue machine that she has at home, she adds the glue and a 'release' wax paper to the back of card stock. Other times, she will use a sponge top glue stick or an all purpose glue adhesive. Her favorite cutting tool is a Craft knife from Martha Stewart. It's round shape makes it easier to hold. Bigger pieces can take her up to 60 hours to complete, while smaller pieces can be done in a couple of hours. She does a lot of commission work...the most popular subjects are dogs and houses.


Christine chose to demonstrate how to create a rose....though I was personally disappointed she did not chose a cat. The whole audience, of over 35 members and guests, watched in awe as she added layer upon layer of cut paper, and a beautiful rose appeared before us on the screen. Watch this Applause video...Christine starts at 19:13.
http://www.pbs.org/video/applause-cartoonist-stephan-pastis-artist-christine-weigand/

| | | |
| --- | --- | --- |
| | Fall Harvest was the theme for the evenings refreshments, served to us by Sandi Richards and Ellen Howard. Goodies included...a veggie tray (broccoli disappeared fast), fruit kabobs, homemade kielbasa (Ellen's family recipe), apple spice cake, nut melt-aways, brownies (Aunt Audrey's) and fall colored M&M's. | |